Cerec in Milpitas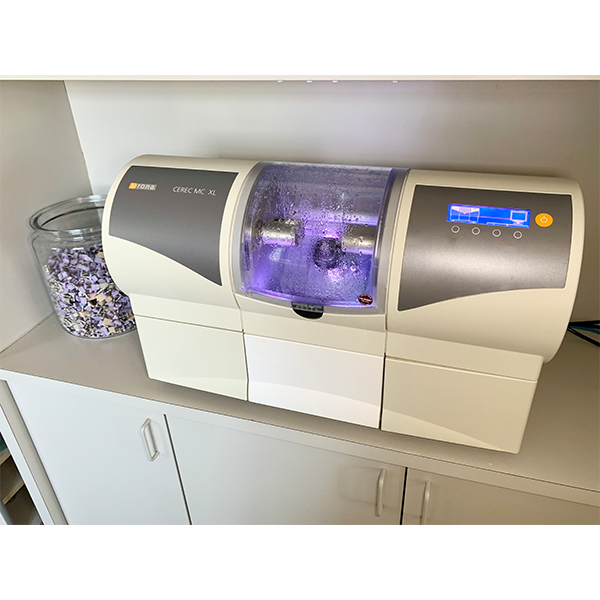 a) Less invasive: no more putty impressions = no more having to deal with gag reflex. We take detailed pictures with an intra-oral scanner. Our philosophy is to take a conservative approach to dentistry, preserving as much healthy tooth structure as possible. Only if the cavity is too large to be fixed with a simple filling, we will recommend a dental crown.
b) Extreme precision: the digital scanner impression is very precise to your teeth and gums. With all this information, we will create an in-house CEREC crown that looks and feels just like a normal tooth. Your same-day crown will fit much better than a traditional crown based on these accurate scans.
c) Less time at the dentist: you get your CEREC crown in one appointment. No need to get numb several times. We scan and design your crown in-house right in front of you. Once designed we mill the crown out in our milling unit. You can watch your crown being milled! We have many different shades of milling blocks to perfectly match the color of your teeth. No more waiting several weeks with a temporary crown, you will get your crown in one appointment.
d) No temporary crown: if you've had a temporary crown before, you will remember how uncomfortable they can be. With CEREC, say goodbye to temporary crowns. Your crown will be made in one visit.
e) Long lasting quality: a CEREC crown can last many, many years. This is of course dependent on your oral hygiene at home and frequent hygiene visits. This means brushing twice a day and flossing every night!
Discuss Your Options Today!
Based on your budget and needs, we will be able to guide you in the right direction so that you are one step closer to obtaining the smile of your dreams. If you have any questions regarding Cerec in Milpitas or if you want to schedule an evaluation or appointment, then please call our office at (408) 262-0804.